VOCALIST SCREENS NOW AVAILABLE: We have a limited number of free to use, portable vocalist screens available (enough for one per room if all rooms are operating). Please ask at reception if you would like one for your room.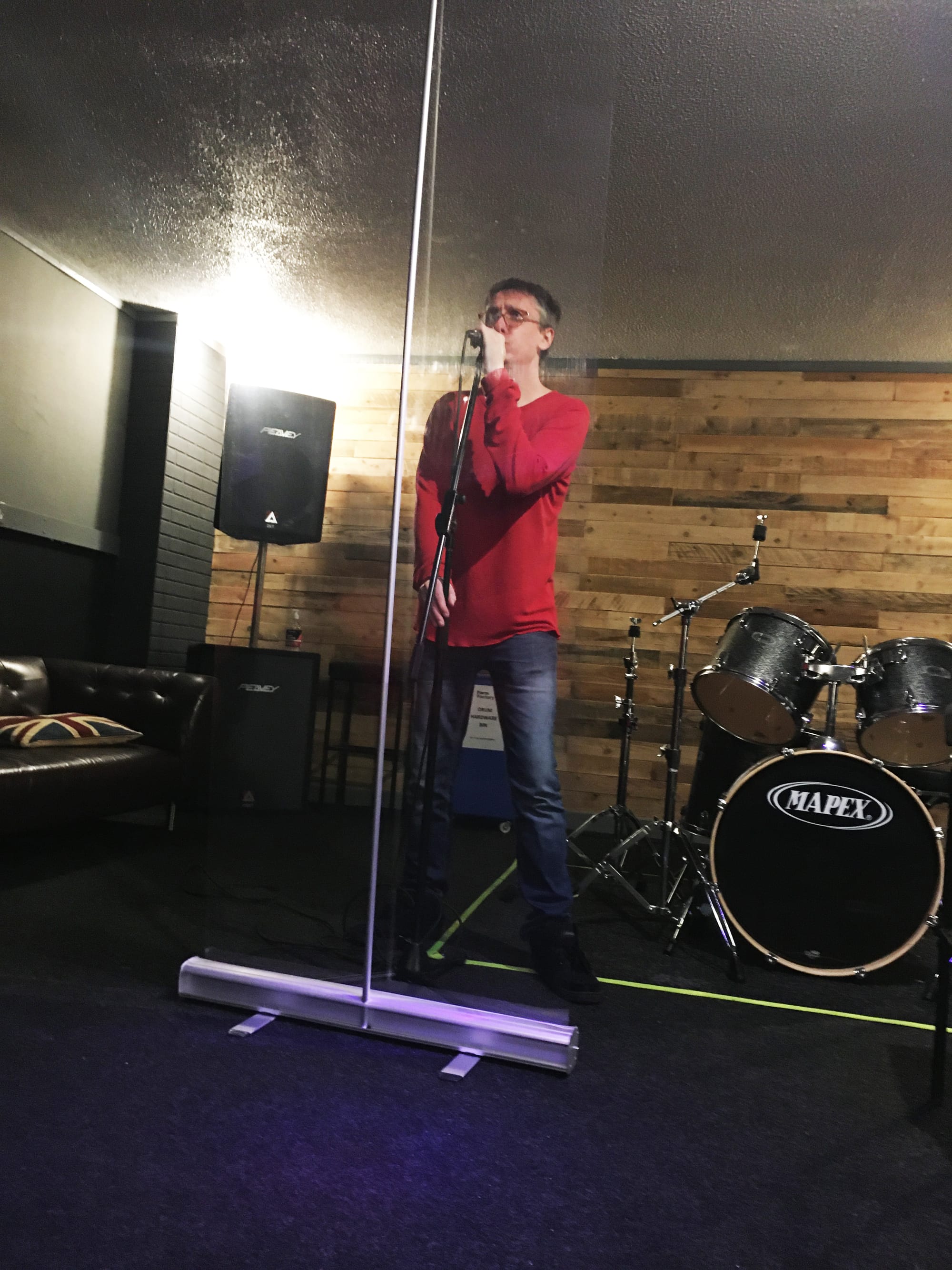 Dolly demonstrates the correct use of a vocalist screen!Price Increase
This was due on 1st July 2020 (2 years since the last increase). Due to the recent circumstances, we have deferred this and will re-evaluate again later in the summer. So, until further notice, rehearsal prices will be frozen.
ALL BOOKINGS ARE LIMITED TO A MAXIMUM OF 6 PERSONS.
Booking
The biggest change will be to how you book your rehearsals.
Under the current guidelines and to help us look after everyone, we feel that it's sensible that we minimise the level of contact and interaction between Farm Factory Studios staff members and our clients. Therefore, for the time being, we are only accepting bookings by phone or through our new online booking system.
We highly recommend that you use the online booking system - this will be the quickest way of booking the time slot that you want. We will not always be able to answer the phone (we are not always on-site if there are no bookings running) and if you leave a message, we may not be able to get back to you to process your booking before someone else books your requested slot online.
For the time being, we will not be taking payments for rehearsals at reception:
ALL PAYMENTS WILL BE TAKEN AT THE POINT OF BOOKING
So please have your card details ready when you book.
Staggered Rehearsal Times
To minimise contact during "crossover" periods, we have staggered booking start / finish times by 15 minutes. You will be able to pick your rehearsal room, how many hours you want to book for and your start time from the online booking system.
To accommodate this, we have adjusted our opening times slightly.
Ideally you will arrive promptly at the start of your booking. However, it is important that you arrive and load in within 10 minutes of the start of your booking time. This will help us minimise "crossover".
Please do not arrive excessively early for your booking – we will not be able to allow you access to your room until the actual start time of your booking.
Once you arrive and load in, please send one member of your group up to reception to collect mics and XLR leads etc.

Room 6
If you book a rehearsal in room 6 you will need to load in / out from the rear of the building. It may be possible to park at the rear of the building as long as the access road is passable for other vehicles. If this is not the case, once you have loaded in / out, please move your vehicle and park elsewhere so that the rear access road is clear for other users.
Setting Up within the Rehearsal Rooms
All of our available rooms are large enough to cope with keeping at least 1 metre distance from other band members. However, we recommend that any vocalists set up pointing away from the rest of the band members where possible.
Cleaning
Microphones will be thoroughly cleaned and disinfected between rehearsals. We will also be providing free disposable microphone covers. However we would recommend that you bring your own microphone if you are at all unsure.
Amp and PA controls will be wiped down between rehearsals.

Hire Drum Kits & Hardware: It is not viable to thoroughly clean hire Drum Kits between rehearsals. We recommend that drummers bring gloves to enable them to handle the hardware and cymbals when setting up, or wash their hands or use the hand-sanitiser provided in each room once they have set the kit up. If you are in any way unsure about this, we recommend that you bring your own kit.
Door Handles and the reception surfaces will be cleaned on a regular basis.
Toilets
We will operate a "one in, one out" policy. The layout of the toilets at Farm Factory is such that it is fairly obvious if there is another person already using the toilet. Please use common sense and respect others by maintaining a minimum 1-metre distance. The toilets will always be well stocked with soap and there will be hand-sanitiser on the storage racking outside the toilets should you wish to use it.
Hand-Sanitiser & Soap
One of the most important things that we can all do to protect each other is to wash our hands at regular intervals and hand-sanitise after touching equipment. The toilets will be well stocked with soap and there will be hand-sanitiser available at reception, in each room and outside of the toilets.
Drinks & Refreshments
Until further notice, we will not be able to serve you hot drinks. Cold drinks will be available - to reduce contact and minimise transactions, cold drinks will be increased in price to £1 (from 90p) and can be paid for in cash – no change given (so please bring some pound coins with you!). Alternatively, we can keep a tab for your room and at the end of your rehearsal one band member can come to reception to pay the tab by card in one transaction. Hand-sanitiser will be available close to the fridge at all times.
Do Not Attend Rehearsals If:
If you have been asked to shield or if you have any of the following symptoms: New cough, High temperature, Loss or change of taste or smell.

We look forward to seeing (and hearing) you back at Farm Factory and hope that we can count on your patience and understanding while we come to terms with the new guidelines.

Many Thanks
The Farm Factory Studios Team