Monday
I chose to do my work experience in Farm Factory Studios because I'm really interested in music and I wanted to see how everything works in this industry. My first instrument that I started to play on was a violin when I was about 10 years old. 3 years later I became interested in playing a piano and therefore I attended piano lessons. However as of right now I've been learning how to play a guitar as a hobby. I generally enjoy most genres of music but my favourites are rock, blues, punk and grunge. Some of the bands I enjoy listening to are Green Day, Nirvana, The Clash and The Beatles. I hope to get better at playing guitar in the future as I am extremely passionate about making music.
On the first day I arrived at 5:00pm and I got shown around the whole studio. It turned out to be bigger than I expected. I have never seen a proper music studio so I was overwhelmed at the amount of professional equipment. After a tour of the place, Sam asked me to help him with setting up the drum kits and things like music stands and microphones for the bands that were coming in later in the evening. The next task was for me to fix an XLR cable which was fun and something I have never gotten a chance to do. I loved listening to all the different bands practising their music as well as music that I already knew. I found it very interesting to hear such creative and varied music genres. At the end of the day I tidied up the studios and set up equipment with Sam for the Rockschool exams that were happening the next day and throughout the rest of the week. The time has gone so fast this day that I haven't realised it was 11:00pm; time for me to go home. All the staff was so nice and helpful. I really enjoyed my first day at Farm Factory Studios and I knew that I chose the right place for my working experience.
Tuesday

On Tuesday I started at 1:00pm. People started to arrive for their exams and my job was to show them to the waiting room and later to the warm up room. In the afternoon, I could participate in the piano lessons. I was happy to help some younger kids with where the different notes are on the piano. After that I took part in the guitar lessons. I really enjoyed playing guitar in all the groups. I also learned how to play Rock the Casbah by The Clash and Johnny B Goode by Chuck Berry which was the highlight of the evening. After that I helped Jamie, the guitar tutor, to get all the equipment out of the room. I finished everything at 9:00pm and same as the other day, the time passed so quickly. I think Tuesday was my favourite day as there were a lot of things to keep me busy as well as playing the guitar with other people which was a lot of fun.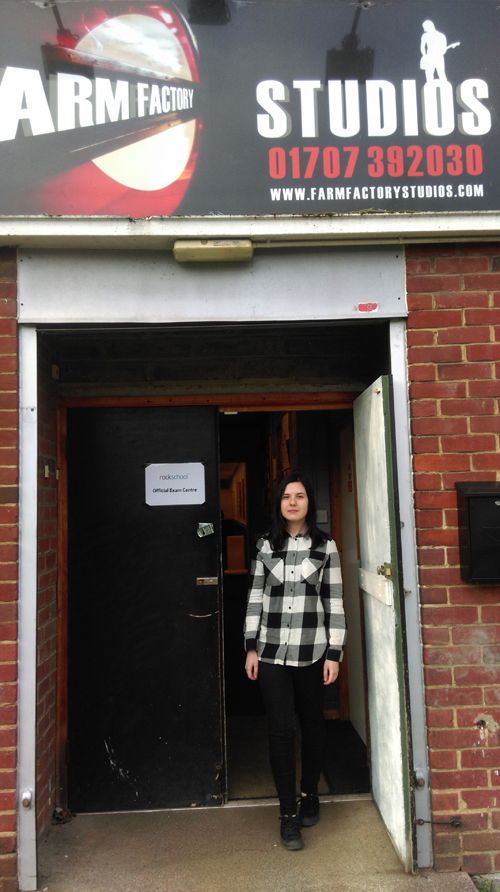 Wednesday

I had to get to the studio quite early at 9:00am.One of my jobs was to generally keep the studios clean by hoovering, dusting, moving equipment from one room to another and restocking the fridge. Monday and Tuesday were busier, Wednesday was more relaxed.
In the meantime Ash (the drum tutor) was editing a music video and he explained and showed me what he's doing. I also picked up a few phone calls for people wanting to book a practice room. Later in the afternoon I was sorting out some paperwork in order until 5:00pm. The atmosphere in the music studio is amazing and everyone is extremely easy to talk to.
Thursday

In the morning, I did a little bit more paperwork from yesterday and made some coffee for the guests. After three days I already got used to coming into the studio. I could move around fast without any trouble because I got to know this place so well. You can never run out of things to do here even when there are no bands coming in. Tiding up the rehearsal rooms is a daily thing you do. You also need to make sure that the equipment is in the right place. I really liked getting to know more information about the equipment and how everything works in the music studio and all the jobs and tasks that are required. There are a lot more things you can do here than I expected at first.

Friday

Today was my last day here; I was sad that I had to leave so soon. In the morning I got to move some equipment around (once again). In the afternoon I got to see how editing and mixing of some recording projects is done. It was fascinating how you can change so much by editing on a program. On my first day I wasn't expecting that there is so much work going on in a music studio. Unfortunately I got a chance to work here for only a week. I felt like I was part of the staff. Doing my working experience here definitely boosted up my confidence and helped me decide what I want to do in the future. I had a really great time and this was definitely a new and an unforgettable experience. I am incredibly lucky that I got accepted for doing my working experience here at Farm Factory Studios. It's worth it, whether you are just curious to know more about how a studio works or if you want a career in the music industry.